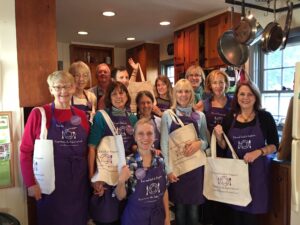 One of our blogs, "Along the way to food system change," has featured the work of Dorothy Mullen and The Suppers Programs. In that piece, Dorothy Mullen is described as "a force of nature with a heart of gold and seemingly unlimited energy for making transformational change possible." You don't have to take our word for it – just look at the photo to the right featuring "Dor" (front and center), as she is affectionately known, with just a small sampling of her many students and graduates of The Suppers Programs training. 
As stated in our previous story, there are various models for creating food system change – business models, organizational models, academic models, etc.  Dorothy champions the community model – eschewing approaches that monetize change. Dorothy's work in central New Jersey, known as the Suppers Programs, thrives on the currency of love and community, relationship building, powerful concepts such as "harm reduction," and the idea that "logical miracles" are possible when your needs are met for nourishing food, social support, and having a safe place to experiment and self-observe ("how you feel is data") while you change old habits. Dorothy and her co-founders have forged a powerful learn-by-doing approach for everyday folks who come together to cook, eat, taste, learn, and feel their way to vibrant health using whole, real food. No dietary dogma or bias – there are vegan, vegetarian and omnivore meetings.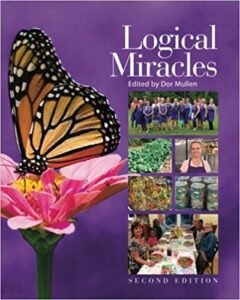 An amazing manual for The Suppers Programs exists it is called "Logical Miracles." Wolfram Alderson, CEO for the Hypoglycemia Support Foundation (HSF) wrote a testimonial for the 2nd Edition titled "It's about love." It's such a great story, we also want to share it with you here.
Wolfram's Story: It's About Love
For me, food is love. Gardens are love. Even compost piles are love!  It's in my nature to find the love in things, situations, people and places; to find those magical places of refuge in life that keep you going, inspire you, restore and invigorate your faith and sense of well-being, so that you can be an active partner in creating a better world where love rules. During my time with the amazing Suppers community in Princeton, I saw people spreading love all over the place – in private homes, around dinner tables, in kitchens, and even in a restaurant. 
As the folks in Princeton were about to close the door on material for the second edition of Logical Miracles, Dor contacted me, saying, "Wolfram, we have to include one more concept: It's not just about food!  You're the love guy, write something about love."
Suppers is a hyper local organization with a very broad appeal, which creates strange challenges. The intensely local approach of serving only 8 or 10 people at a time at meetings draws attention from far and wide because it is powerful experience – which is shared by thousands on the web. Many in the for-profit and non-profit worlds are trying to address metabolic disease by focusing on monetizable approaches, such as sophisticated behavior change programs, tech, and pharma solutions. Suppers champions a "community model" that works at profoundly deeper level with real people, real food, and real problems solved one delicious mouthful at a time. As founding Executive Director of the Institute for Responsible Nutrition, I employ a time-tested strategy called "finding the good and praising it". Rather than trying to "recreate the wheel", we identify existing viable models and effective programs for dealing with the epidemics of metabolic disease which are — make no mistake — almost completely avoidable by changing the way we eat. Then we look for ways to share and support what they are already doing.
Shortly after meeting Dor at a food systems conference in San Francisco where we were both presenting as "thought leaders", I flew to New Jersey for the basic facilitator training of Suppers. I wrote shortly thereafter that Suppers has discovered the Holy Grail of Lifestyle Change. Before assuming that I have joined some airy-fairy cult in New Jersey, hang on – I want you to know that The Suppers Programs is one of the best examples of applied science I have ever seen. The scientific method is simply a way to identify a problem, gather relevant data, formulate a hypothesis, and then test the hypothesis empirically. My love of science doesn't cloud my understanding that a fundamental flaw of the processed food supply is that it is loveless. It is devoid of caring. It lacks the "localness" that has characterized all food systems up until very recently in the history of human eating. It fails to account for the trust and transparency of food production that were so important to all but the most recent generations of eaters. The promise of "better living through chemicals" has failed.
The Suppers Programs engages us with food and community, and also manages to factor in what I call the Love Algorithm. While it isn't formally spelled out in their well-written manual, it is part of the "secret sauce" that makes Suppers Programs so successful, and is baked in to virtually every aspect of what this community is doing.
Suppers brings together food and love everywhere you look, and the loving message of non-judgment is ubiquitous and powerful in their gatherings. Ask any of the participants why the program works so well – it isn't just what they are learning, it is how they are learning it. I acknowledge that mixing up love with food can be detrimental to our health, since the food industry is so adept at exploiting our biochemical responses to trick us into believing we "love" addictive food-like substances made in factories. But this isn't real love or real food. So much of our food system has removed love from our food, turning it into a soul-less substance with a long shelf life and a fantastic profit margin. The Suppers Programs has figured out a way to put science and love back into the recipe for food and health. "How you feel is data" is concept used by the Suppers Programs that provides individual and collective means for examining our objective and subjective responses to food, and helps us sort out the true impact of foods on our health. This applied science is done in a supportive climate of non-judgment and harm reduction. So when Dor asked me to share my thoughts about how Suppers is not just about food, I was happy to report:  It's about love, community, and transformation, served up a forkful at a time.
Learn more about The Suppers Programs at https://www.thesuppersprograms.org
The Suppers Programs is a 501(c)(3) and its mission is to provide safe and friendly settings where anyone — and especially people with food-related health challenges — can develop and manage their own personal transitions to a healthier life. Four principles guide their mission: 
1) The active practice of non-judgement
2) Whole food preparation
3) No commercial messages
4) Restoration of the family table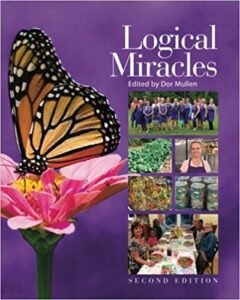 You can order "Logical Miracles" on Amazon by clicking here.
Visit The Suppers Programs on Facebook here: https://www.facebook.com/TheSuppersPrograms (don't forget to "like" their page!).