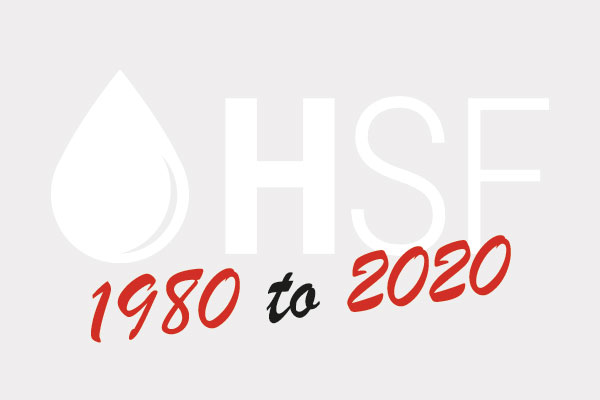 Dear Family, Friends and Supporters,
For decades, the Hypoglycemia Support Foundation (HSF) has been deeply honored to advocate for people affected by hypoglycemia from around the world. Founded in 1980, the HSF celebrates its 40th Anniversary on March 13, 2020 – the same day as the birthday of hypoglycemia pioneer researcher Dr. Seale Harris (born on March 13, 1870). On this glorious day, we will also celebrate the first annual Global Hypoglycemia Awareness Day!
We receive no local, state or federal funding; our existence over the last forty years has only been possible due to your generosity and the support of our family, friends, sponsors, partners and community.
Leading medical and research institutions pay scant attention to reactive / functional hypoglycemia, so there is no accurate number for how many people suffer from the condition. However, we know that half of Americans have diabetes or pre-diabetes. Dr. Seale Harris, the pioneer who first identified hypoglycemia as a medical condition, stated in the 1940s that "the low blood sugar of today is the diabetes of tomorrow." 
Some highlights of our accomplishments include the following:
Published an award-winning book on hypoglycemia with praise from the American Library Association – 5th edition, released September 2017.
Designed and distributed a wide range of educational materials, including brochures titled "Hypoglycemia & Children:
Is Your Child At Risk?" and "Hypoglycemia & Alcoholism: The Missing Link to Recovery."
Provided hundreds of educational presentations, hosted support meetings and health fairs, and lectured at schools, hospitals and businesses.
Conducted surveys examining hypoglycemia and diabetes – and published results, including a collaborative research
project to study the link between hypoglycemia and juvenile delinquency.
Served as champion for over a million patients with misdiagnosed metabolic conditions (e.g., hypoglycemia).
Garnered extensive earned media and maintained an informative presence on social media,
reaching millions online.
Reached millions, forming a global community via the www.hypoglycemia.org website.
Served as a pediatric advocate, established the only website dedicated to children suffering from hypoglycemia.
Shared inspiration and expertise with the international movement addressing hypoglycemia.
Responded to over 100,000 inquiries and emails from every state in the U.S. and countries
around the world.
With your continued support, here is what we plan on doing:
Expand focus on metabolic health and nutrition, with hypoglycemia as a priority.
Develop revenue-generating educational programs for healthcare providers and their patients
from South Florida to San Francisco, California, to Seattle, Washington, and across the U.S.
Build a large online presence by offering engaging and impactful educational content.
Establish a speakers' bureau.
Deepen the capacity of the organizational leadership and infrastructure.
Implement year-round fundraising, fully integrated with programs.
For more details, please read our 2020 Strategic Vision.
For the last four decades, the HSF has provided impactful education and information and prevented tens of thousands from progressing to more serious and painful metabolic disorders that destroy physical and financial well-being. To sustain this legacy and take the HSF to the next level, we forged a 2020 Strategic Vision. 
One of the challenges in our work is that too few doctors and healthcare professionals have been adequately trained to understand, diagnose and treat the most common, diet-related, form of hypoglycemia. Facing this challenge head on, the HSF is developing the first-ever continuing medical education (CME) course focused on reactive/functional hypoglycemia. Thanks to partnerships that we have forged with leading medical experts and institutions, these programs are launching this year!
The financial support you provide is vital for our educational efforts to flourish and for our community to thrive.
In 2018, we served in essential leadership roles at several national healthcare conferences, and our website and educational materials reached an average of over 10,000 people per month. In 2019, our goal is to exponentially increase our impact on patients and healthcare providers.
Would you please help the HSF to continue to fulfill its vital mission? 
Please click here to donate to the HSF today!
Eternally grateful for the support of our community,
Roberta Ruggiero, Founder/President & Wolfram Alderson, CEO