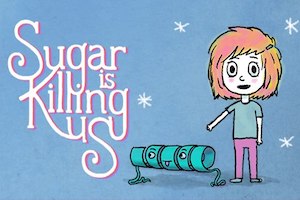 Sugar Really is Killing Us!
Sugar is Killing Us is a partnership between the folks at Fred Water, the Hypoglycemia Support Foundation, and Dr. Robert Lustig – all partners in building the global movement needed to educate and engage millions in shaping the way food is produced, marketed and distributed so we can end food-related illness and promote good health. A good start is drastically reducing or eliminating added sugar in our diets – truly a requirement for anyone struggling with blood sugar dysregulation. Access to information means learning, and such information changes lives. A good place to get more science on sugar is the UCSF site called "Sugar Science".  You might also visit Dr. Robert Lustig's website – it is loaded with educational content, and features many articles on sugar education.
Sugary drinks alone kill 184,000 people every year. 
Seventy-five percent of packaged foods purchased in the United States contain added sweeteners.
Expert panels worldwide have made consistent recommendations on daily sugar intake. How Much Is Too Much?
The American Heart Association (AHA) recommends no more than 6 teaspoons (25 grams) of added sugar per day for women and 9 teaspoons (38 grams) for men. The AHA limits for children vary depending on their age and caloric needs, but range between 3-6 teaspoons (12 – 25 grams) per day.
The World Health Organization's (WHO) recommendation is no more than 10% of an adult's calories – and ideally less than 5% – should come from added sugar or from natural sugars in honey, syrups and fruit juice. For a 2,000-calorie diet, 5% would be 25 grams or a little more than 6 teaspoons (4 grams = 1 teaspoon).
Limit daily sugar to 6 tsps (25 g) for women, 9 tsps  (38 g) for men.
The average American consumes 19.5 teaspoons (82 grams) every day. That translates into about 66 pounds of added sugar consumed each year, per person.
How much added sugar do you NEED in your diet? 0 grams.
Wouldn't be cool if there was an application that could screen the entire food supply for added sugars (there are hundreds!), and allow you to find the "no added sugar" products you want? Hurray, the Hypoglycemia Support Foundation is partnering with an innovative startup called perfact to do exactly this. We are running a "beta" demonstration group now if you want to sign up to try out the innovative technology. We have also initiated a "sugar matrix" project to identify the hundreds of sugars in our food supply…the project relies on volunteers to gather critical information about added sugars. If you would like to help, click here to sign up. The "Sugar is Killing Us" perfact filter eliminates all know sugars in the perfact database and is updated from time to time to include new names for added sugars that the food and beverage industry keeps cooking up. 
Please visit and support our Sugar is Killing Us Facebook page.
Have you seen the Sugar is Killing Us video? Check it out!
We are also sharing Sugar: Hiding in plain sight – Robert Lustig – it was produced with the same partners as the SIKU video.
| | |
| --- | --- |
| Credits |   |
|   |   |
| Production Company | Fred Water, Sausalito, CA |
| Music Company | Fischoff Music, Brooklyn, NY |
| Sound Design Company | WaterDog Studio, Portland, OR |
| Executive Producer | Adam Gayner / Fred Water, Sausalito, CA |
| Executive Creative Director | Ariel Broggi / Fred Water, Sausalito, CA |
| Writer | Ariel Broggi / Fred Water, Sausalito, CA |
| Director | Ariel Broggi / Fred Water, Sausalito, CA |
| Director | Arthur Jones |
| Director | Karl Ackermann |
| Animator | Arthur Jones |
| Animator | Karl Ackermann |
| Composer | David Fischoff |
| Sound Designer | Heather Perkins |
| Voiceover | Starlee Kine |